Natural & Power Resource of Himachal Pradesh
Natural resources are useful raw materials that we get from the Earth. They occur naturally, which means that humans cannot make natural resources. Instead, we use and modify natural resources in ways that are beneficial to us. The materials used in human-made objects are natural resources. Some examples of natural resources and the ways we can use them are: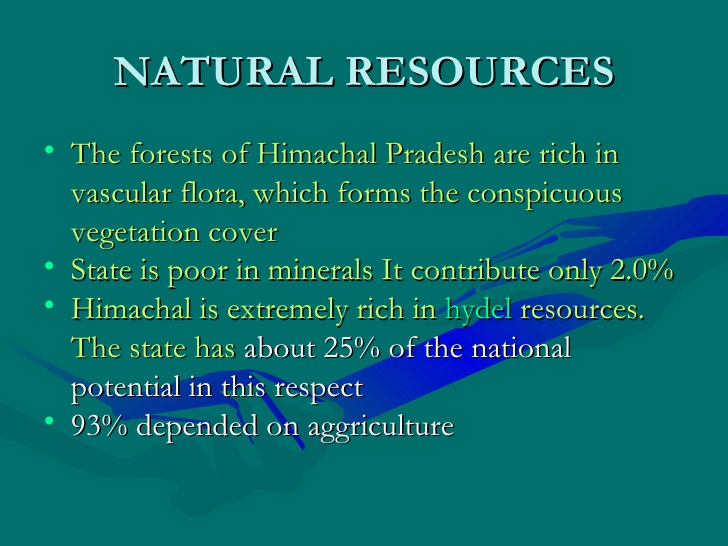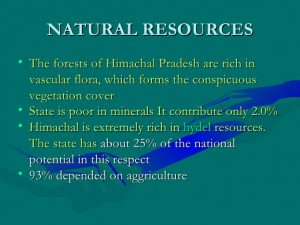 Natural resources are also classified based on their renewability:
Renewable natural resources: these are resources that can be replenished. Examples of renewable resources include sunlight, air, and wind . …
Non-renewable natural resources: these resources form extremely slow and do not naturally form in the environment.
On the basis of origin, natural resources may be divided into two types:
Biotic — Biotic resources are obtained from the living and organic material, such as forests and animals, and the materials that can be obtained from them. Fossil fuels such as coal and petroleum are examples.
Abiotic – Abiotic resources are those that come from non-living, non-organic material. Examples fresh water, air, rare earth metals etc.
Considering their stage of development, natural resources may be referred to in the following ways:
Potential resources — Potential resources are those that exist in a region and may be used in the future
Actual resources — Actual resources are those that have been surveyed, their quantity and quality determined and are being used in present times..
Reserve resources — The part of an actual resource which can be developed profitably in the future is called a reserve resource.
Stock resources — Stock resources are those that have been surveyed but cannot be used by organisms due to lack of technology.
Mineral resource
Nature has endowed Himachal Pradesh with a number of important minerals such as, salt, gypsum, clays, mica, limestone, barytes, iron, pyrite and lead, however,  limestone and slate are of greater significance. The deposits of slate are found in Mandi, Kangra and Chamba district. Rock salt deposits are located in Mandi district at Gumma and Darang.
Gypsum is found in Sirmaur district. The limestone which is useful raw material for cement industry is found in abundance in Bilaspur, Sirmaur, Mandi and Solan district. In recent survey uranium deposits have been reported in Kullu and Hamirpur districts. Since a long time ONGC has been making efforts to locate combustible gas at Jawalamukhi (Kangra) and Deot Sidh (Hamirpur).
Water resources
The state is richly endowed with a hilly terrain having an enormous volume of water from the catchment areas of Satluj, Beas, Ravi and Chenab rivers. As such, the state has enormous potential of water resources in the form of glaciers and rivers but ground water resources are limited.
Glaciers are located in higher Himalayan reaches (above 4000 m) in Pir Panjal, Dhauladhar, Zanskar and Great Himalayan ranges. There are 800 Glaciers in the Himachal Himalayas.
Surface water Resources
Most of the surface water resources of the state flow from perennial rivers which originate from glaciers. About 90% of Himachal Pradesh's drainage forms the part of Indus river system. Himachal provides water to both the Indus and Ganges basins. The major river systems of the region are the Chandrabhaga or the Chenab, the Ravi, the Beas, the Sutlej and the Yamuna.
There are a number of small and large lakes in Himachal Pradesh. Most important of them are 21.
Among the Ramsar Wetlands are the following
Chandra Taal (meaning the Lake of the Moon) Chandra Tal is situated at an altitude of about 4,300 metres in the Himalayas. The name of the lake originates from its crescent shape. Situated in the Spiti part of the Lahul and Spiti district of Himachal Pradesh, Chandra Taal is a popular destination for trekkers and campers.
Renuka Wetland- It is located in Sirmaur District at an altitude of 660 m above msl. It has high biological richness.
Pong Dam- It  is situated at district Kangra and the bank of Beas river along boundary of Himachal and Punjab states.
Groundwater Resources
The groundwater resources occur mainly in unconsolidated sediments of intermontain valleys and in the submontane tract. Kangra, Una, Hamirpur, Bilaspur, Mandi, Solan and Sirmaur districts, particularly their valley areas depend upon groundwater.
The major consumptive use of water in the State has been for irrigation. The gross irrigation potential of the State is estimated to be 3.35 lakh hectare, while the irrigation potential created has reached 2.56 lakh hectare by September 2013.
Forest resource(Flora & Fauna)
As much as 68% of the land area is covered with jungles. While the foothills and valleys are a refreshing green, the areas above the snow line are almost bare.The southernmost tracts are dominated by sal, sisham, chir, pine, dry deciduous and moist broad-leafed forests.  The temperate region above this grows oaks, deodar, blue pine, fir and spruce. The rhododendrons are seen along the hillsides around Shimla from March to May.
Himachal is the fruit bowl of the country with orchards found all over the place. Orchards bloom with wild flowers, but gladiolas, carnations, marigolds, roses, chrysanthemums, tulips, lilies and other flowers are carefully cultivated. The state government is trying to make Himachal the flower basket of the world.
From thick sub-tropical forests to the dry alpine vegetation, Himachal home to a wide variety of animals. This includes the leopard, which is the most widely distributed mammal in the entire state, the snow leopard, ghoral (goat-like stout animal), musk deer which is the state animal and monal (a pretty bird in nine iridescent colours), the state bird. HP has 11 major national parks and sanctuaries – the largest number in the Himalayan region. The Great Himalayan National Park in Kullu – the first in the state – was created to conserve the flora and fauna of the main Himalayan range, while the Pin Valley National Park to conserve the flora and fauna of the cold desert. At present there are 32 Sanctuaries, 2 National Parks and 3 Games Reserves.
The richness and diversity of our flora can be gauged from the fact that, out of total 45,000 species found in the country as many as 3,295 species (7.32%) are reported in the State. More than 95% of the species are endemic to Himachal Pradesh and characteristic of Western Himalayan flora, while about 5% (150 species) are exotic, introduced over the last 150 years.
Geographical Distribution of Forest (As per FSI Report 2015)
AREA KM2
% OF GEOGRAPHICAL AREA
% OF FOREST AREA
1
Geographical Area
55673
100
………
2
Forest area Legally Classified
37033
66.52
100
3
Area under Tree Cover
14696
26.4
39.68
i) Very Dense Forest
3224
5.79
8.7
ii) Moderate Dense Forest
6381
11.46
17.23
iii) Open Forest
5091
9.14
13.74
Soil
Some of the common types of soil found in the state are Sedimentary, brown, as well as brownish-grey soils. These soils are found in the agriculture rich districts of Una, Solan, Bilaspur, Hamirpur, Shimla, Kullu and Kangra.
Soils in Una and hamirpur distt are low in Nitrogen, while Kangra, mandi Bilaspur, shimla are medium. Phosphorus status is low in kangra, una and shimla while it is medium in hamirpur, solan, kinnaur, kullu and mandi districts. Deficiency of Ca and Mg are common in acidic soil of Himachal Pradesh while Zn deficiency is found in 70% of soil.
POWER RESOURCE
Himachal Pradesh is extremely rich in its hydroelectricity resources. The state is having about twenty five percent of the national potential in this aspect. It has been estimated that about 27,436 MW of hydel power can be generated in the state by the construction of various hydel projects on the five perennial river basins no matter they are major, medium or small. Out of total hydel power potential of the state, 8,418 MW is harnessed so far, out of which only 7.6% is under the control of Himachal Pradesh Government while the rest being exploited by the Central Government.
Some imp hydel power station of state are as follows:
1.Girinagar Hydel Project- On river Giri of the Sirmour District
Binwa Hydel Project- it  is located near Baijnath in District Kangra
Sanjay Vidyut Pariyojna- Located in the Kinnaur district, on the river Bhaba
Bassi Hydroelectric Project- itis an extension of Beas Power House (Mandi District)
Nathpa Jhakri Project- it is major project on the Sutlej river is the Nathpa Jhakri Dam which generates nearly 1500MW of electricity. The project is funded by World Bank.
Beside these there are many small hydel power project located in the state.
Following Six Hydro Electric Power projects are already being developed by HPPCL.
Shongtong Karcham HEP       450 MW
Sainj HEP                             100 MW
Sawra Kuddu HEP                 111 MW
Kashang HEP                        243 MW
Renuka Ji Dam HEP                40 MW
Chirgaon Majhgaon HEP          42 MW
[/lockercat]HPPCS Notes brings Prelims and Mains programs for HPPCS Prelims and HPPCS Mains Exam preparation. Various Programs initiated by HPPCS Notes are as follows:-
For any doubt, Just leave us a Chat or
Fill us a querry
––