Himachal Pradesh Major Cities and Tourist Places
Himachal Pradesh is always known for its natural beauty. Here are some of the major cities as well as tourist places:
Manali
Location:  Situated at a height of 6260 feet above sea level, Manali is one of the most popular, beautiful and awe-inspiring hill stations in Himachal Pradesh and in country.
Specification:River Beas flows right through the town, creating a mesmerizing and spellbinding landscape. Nestled at one end of the Kullu Valley, Manali is a popular hill station with attractions such as the Rohtang Pass and Solang Valley nearby.
Rohtang Pass is covered with snow throughout the year and is a good experience in itself.
Besides adventurous activities, Manali also has a lot of temples which all tourists and devotees love to visit including the Raghunath temple and JagannathiDevith Temple being one of the important ones. Hadimba Temple, a 14th-century temple is famous for its wooden architecture and for its religious values. Manali is also used as the base town for the Manali-Leh highway and Leh is around 479 km from here. Lahaul and Spiti district can also be accessed from here during the summers using the same highway.
Mcleodganj
Location:Mcleodganj is a hill station near Dharamshala, popular among trekkers. Its culture is a beautiful blend of Tibetan with some British influence.
Specification:It is also known as Little Lhasa. It is famous around the world for being home to the Tibetan spiritual leader Dalai Lama, Mcleodganj is a beautiful town situated near upper Dharamsala. Nestled amidst majestic hills and lush greenery, this town is culturally blessed by a prominent Tibetan influence owing to the major settlement of Tibetans here. Mcleodganj has one of the most mesmerising landscapes in the entire state of Himachal Pradesh and attracts a lot of tourists throughout the year. The towns of Dharamsala, Mcleodganj, Bhagsu Nag and Kangra are situated very close to each other and tourists must cover all these destinations while travelling here. Few of the most eminent and religiously significant monasteries in India are located here, including the Namgyal Monastery and Tsuglagkhang, where the spiritual leader Dalai Lama resides. Tourists must also visit the scenic Dal Lake and Triund, which are apt for quiet picnics.
Dharmasala
Location:At a distance of 9 km from McLeod Ganj, 16 km from Kangra, 84 km from Pathankot, 115 km from Dalhousie, 194 km from Kullu, 234 km from Manali, 237 km from Shimla, and 486 km from Delhi, Dharamshala is a hill station in Kangra district of Himachal Pradesh. At an average altitude of 1,475 m above sea level, it is one of the best places to visit in Himachal state and among the most famous hill stations near Delhi.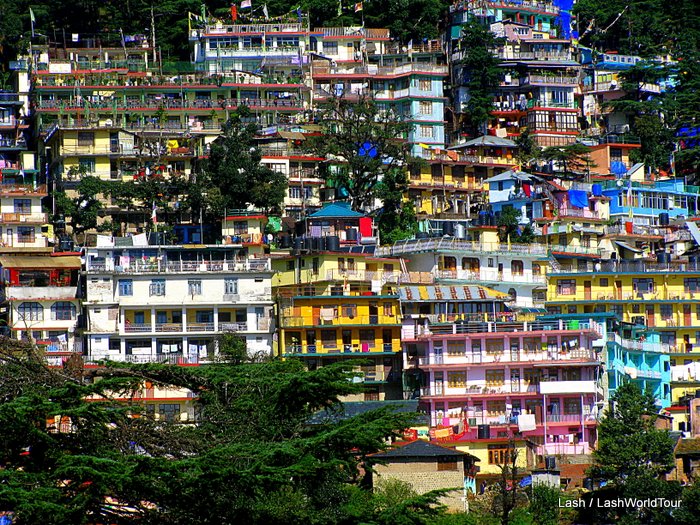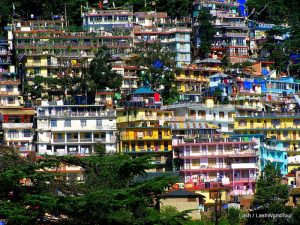 Specification:This is the gateway to the Kangra valley and also the headquarters of Kangra district. The city was destroyed by a massive earthquake in the year 1905 and was reconstructed to become a health resort and a popular tourist destination. In the year 1960, Dharamshala became a temporary headquarters to His Holiness Dalai Lama.
Dharamshala consists of two distinct parts – Lower Dharamsala and Upper Dharamshala. Lower Dharamsala is a bustling civil and commercial center whereas Upper Dharamshala, known more commonly as McLeod Ganj, is the seat of Tibetan spiritual leader, the Dalai Lama.
The hill station of Dharamshala is covered by thick woods of oak and coniferous trees and it is enfolded on its three sides by the Dhauladhar ranges. It has a lot to offer ranging from ancient temples, churches and monasteries to museums and beautiful trekking trails. The ancient Chamunda Temple, Dalailama Temple, Namgyalma Stupa, Bhagsunath Temple, Norbulingka Institute, Gyuto Monastery and Indru Nag are some of the prime tourist attractions. Dharamshala is a starting point to a number of trekking trails. Bhagsu Falls, Dharamkot, Triund, Ilaqa, Toral Pass, Bhimghasutri Pass, Dunali and Kareri Lake are the important trekking trails here.
Shimla
Location:At a distance of 348 Kms from New Delhi & 112 Kms from Chandigarh, Shimla is one of the most popular hill stations in India.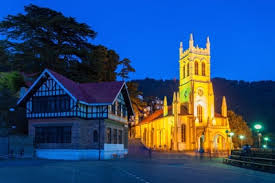 Specification: It is the capital city of Himachal Pradesh and popularly referred as the 'Queen of Hills'. The beautiful Shimla derives its name from 'Goddess Shyamala', an incarnation of Goddess Kali. It was developed by the British and declaring Shimla as their summer capital. Shimla is one of the most most visited Himachal hill stations and among the popular Himachal Pradesh tourism destinations.
A narrow railway links Kalka with Shimla was built in 1924 and its toy trains still ply between the two stations passing through 105 tunnels and beautiful rail-road stations. This hill station amidst the lofty snow-clad Himalayan ranges surrounded by lakes and lush green pastures. The unique thing about Shimla is that it still retains its colonial charm.
Shimla is one tourist destination that can be visited any time during the year. The climate of Shimla varies from a maximum of 10-11 degrees in winter to a maximum of 25-26 degrees in summer. In spring we see flowers of all kinds, both wild and cultivated. During the monsoon, we see some of the best sunsets in the world. Summers are warm with cool and pleasant evenings while winters are bone chilling and the temperatures can fall below zero. But this difference is what makes Shimla all the more special.
Besides being the ultimate summer retreat it remains an ideal spot for adventure sports. Tourists can go in for the various treks to the Kullu valley or indulge in trout fishing at the Pabbar River.
The nine-hole golf course at Naldehra is also a major draw for the tourists.
Rhyali festival is celebrated to keep the rain Gods happy so that the agricultural produce does not get affected. The Summer Festival that is held every year in the month of May, this famous festival is celebrated on a grand scale
Dalhousie
Location: At a distance of 51 km from Chamba, 86 km from Pathankot, 167 km from Jammu, 319 km from Chandigarh, 323 km from Shimla and 564 km from Delhi, Dalhousie is a scenic hill station in Chamba district of Himachal Pradesh. It lies at an elevation of 1,970 m and is a popular summer getaway in Himachal Pradesh and among the most visited Tourist places in Himachal.
Specification:Dalhousie is surrounded by snow peaked mountains and is located on the western edge of the Dhauladhar mountain range of the Himalayas. It was named after Lord Dalhousie, the then Viceroy of India, who established this town as a summer retreat in 1854.
GanjiPahadi, Dainkund Peak, Khajjiar, NoorwoodParamdham, Rang Mahal, Bara Pathar temple, Hariraya Temple, St. Patrick Church, Bakrota Hills, Satdhara Falls, Village Lohali, Kalatop and Kalatop Forest, Panchpula, SubhashBaoli and Salooni are the top places to visit in Dalhousie. Dalhousie also offers a lot of activities for nature lovers and adventurers. GaramSadak, Jhandrighat, Moti tibba and Sach pass are the ideal places for the trekking enthusiasts in Dalhousie. Minjar fair and summer festival are the two important festivals celebrated in Dalhousie.
There are numerous hotels available to suit every budget. Guesthouses, resorts and homestays are also available. Most of the good hotels in Dalhousie are along the Mall Road and near the bus stand.
Gaggal Airport is the nearest airport to Dalhousie which is located near Dharamshala and is approximately 105 km. It has direct flights from Delhi. The nearest railway station is Pathankot Railway Station which is 86 km from Dalhousie. It has trains from Ahmedabad, Vaishno Devi Katra, Jammu Tawi, Delhi, Mumbai, Amritsar, Tata Nagar, Rourkela, Haridwar, Jalandhar and Chandigarh.
Kullu
Location: At a distance of 40 km from Manali, 500 km from Delhi, 215 km from Shimla and 258 km from Chandigarh, Kullu is the capital town of Kullu district in the state of Himachal Pradesh. It is located on the banks of the Beas River in Kullu Valley at an altitude of 1230 meters.
Specification:Kullu is a broad open valley formed by the Beas River between Manali and Larji. This valley is famous for its temples, beauty and its majestic hills covered with Pine and Deodar Forest and sprawling Apple Orchards.
Kullu was earlier known as Kulant pith meaning 'the ending point of inhabitable world'. The beautiful valley is also mentioned in epics like Ramayana, Mahabharata and Vishnu Purana. Chinese traveler Huien Tsang visited Kullu in 634 or 635 AD and described it as a region completely surrounded by mountains. The place had a stupa built by Asoka. In ancient days Kullu had several Buddhist monasteries. There were Hindu temples too and people of both faiths lived peacefully together.
Kullu valley is the largest valley in Kullu district. The Beas River runs through the middle of the valley. It is also called the 'Valley of the Gods' or 'Dev Bhumi'. It connects with the Lahaul and Spiti valleys via Rohtang Pass. Kullu was an ancient kingdom of hill states and it was ceded to the British in 1846 along with other trans-Sutlej states. The first motorable road was built here only after independence. Due to long years of isolation, this area was able to retain its traditional charm and beauty.
Kullu is also famous as a hotspot for adventure sports. Trekking, river rafting, mountaineering, paragliding and hiking over the Himalayan glaciers are some of the activities that Kullu offers. Angling is another activity enjoyed a lot by locals as well as tourists. Some of the famous tourist places in Kullu are Manikaran, Manali, Malana, BijliMahadev, Bhekhli, Bajaura, Kasol, Kheer Ganga, Kulant Pith, Katrain, Kangra and Great Himalayan National Park. Chandrakhani pass, Jalori Pass and Tirthan Valley are the other attractions in Kullu.
KulluManali Airport at Bhuntar in the nearest airport at a distance of 12 km from Kullu. Joginder Nagar is the nearest narrow gauge station at a distance of 105 km from Kullu. Chandigarh is the nearest major broad gauge station at a distance of 258 km. Kullu has a major bus station which has direct buses to Delhi, Chandigarh, Shimla, Manali and Mandi.
Kullu Valley is well known for the seven day festival of KulluDussehra, a celebration of Avatar Lord Rama's victory over the evil king Ravana. The festival takes place in the months of October / November. The State government has accorded the status of International festival to the KulluDussehra, which attracts tourists in large numbers.
Kasauli
Location: At a distance of 25 km from Solan, 68 km from Shimla, 55 km from Chandigarh, 181 km from Dehradun, and 306 km from Delhi, Kasauli is a picturesque hill station in the Solan district of Himachal Pradesh. The town is a cantonment town of the Indian Army, having an elevation of 1,900 m above sea level.
Specification:The history of Kasauli goes back to 17th century, when Rajput families came to take refuge in Kasauli situated in the foothills of the Dhauladhar Ranges of the lower Himalayas and later settled here. Later, it was established by the British in 1842 as a Cantonment town. Kasauli became a major garrison town of the British Army and many locals joined the British Army. During the First Battle of Indian Independence, also known as the Sepoy Mutiny, which took place in 1857, Kasauli witnessed an upsurge among its soldiers.
The name Kasauli came from Kausalya, a mountain stream which flows between Kasauli and Jabli. The serene place of Kasauli has been mentioned in the epic Ramayana. The town is famous for its lush green and picturesque surroundings of the mountains and its quiet and tourist friendly locals. Kasauli also has a Pasteur Institute founded in 1900 to produce rabies vaccine and at the same time it also treats Hydrophobia disease. The town is also home to Kasauli Brewery, which is the highest brewery and distillery in the world. Christ Church and Baptist Church are amazing examples of classical Gothic style of architecture. The churches have beautiful stained glass windows, a common feature of churches built in the British colonial era.
Kasauli is set in the backdrop of the Dhauladhar Ranges with natural trails for long walks. Monkey Point, Lower and Upper Mall, Sanawar, Baba BalakNath Tempe, Sabathu Fort are some of the major attractions in Kasauli. The hill station offers activities like trekking, paragliding, and camping for adventurous travellers. Surrounded by dense forests, Kasauli is home to several species of Himalayan flora and fauna including endangered ones.
Chandigarh Airport is the nearest airport, which is about 64 km from Kasauli. It has direct flights from Delhi, Mumbai, Bangalore, and Srinagar. The nearest railway station is at Kalka, approximately 34 km from Kasauli. It is connected by train with Shimla, Vaishno Devi Katra, Delhi, Mumbai, Ambala, Solan, Barmer, Biwani, Shirdi, Chandigarh and Howrah. Kasauli is well connected by road with Shimla, Solan, Delhi, Kalka and Chandigarh.
The best time to visit Kasauli is from April to June and September to November. Kasauli is not commercial like Shimla but this hill station has several resorts and hotels that provide a comfortable stay for its visitors.
Chamera Lake
Location: At a distance of 26 km from Dalhousie, the Chamera Lake is an artificial lake situated at Chourah in Chamba district of Himachal Pradesh. The Lake is formed by the Chamera Dam on the Ravi River, which is positioned at an altitude of 1700 m. It is a major source of water supply for the villagers and is continuously fed by the Ravi River. The Chamera Hydel Electric Project, one of the main hydel projects of Himachal Pradesh, is situated nearby.
Specification:
Nestled in a valley in the midst of pine forests, the lake is an excellent site for activities like fishing, angling and boating. Himachal Pradesh Tourism department has built a boat house adjacent to the lake near Taleru, which has facilities for water sports like river rafting, motor boating, canoeing, and kayaking. Other than the water sports, pedal boats and rowing boats are also available for the tourists. The Bhandal Valley and the Bhalei temple are the other tourist spots near Chamera Lake.
Chamera Lake, though located in the midst of dense forests, is well connected by roads making it easy to reach the place.
[/lockercat]HPPCS Notes brings Prelims and Mains programs for HPPCS Prelims and HPPCS Mains Exam preparation. Various Programs initiated by HPPCS Notes are as follows:-
For any doubt, Just leave us a Chat or
Fill us a querry
––