#DMPQ #Mains #Prelims #CurrentAffairs #StateGK
 Main Features of budgets of Himachal Pradesh
HIMACHAL PRADESH BUDGET 2017-18 
In a short span of time of Himachal Pradesh has become a model of development not for smaller States but for the bigger States of the country in the field of Education, Health, Horticulture, Hill area  development,  Social Welfare and inclusive growth. Today Himachal is known as most prosperous and one of fastest growing economy in the country.
The State Gross Domestic Product (GSDP) at factor cost at current prices, the GSDP is estimated at 1,13,667crore in 2015-16 as against 1,04,177 crore in 2014-15 showing an increase of 9.1percent during  previous  year.
Chief Minister Virbhadra Singh presented Himachal Budget 2017-18 in which the government claimed to have achieved 7.7 percent growth. No fresh taxes have been proposed in Rs 35,783 crore election year Himachal Pradesh Budget.The annual plan for 2017-18 has been proposed at `5,700.00 crore which will be 9.6 percent(500 crore) higher than the plan size of current year 2016-17.
SALIENT FEATURE OF BUDGET 2017-18:.
3 percent Dearness Allowance will be provided to regular employees and pensioners of State Government from July, 2016. Additional Interim Relief 4 percent of the basic pay will be provided for regular Government Employees and pensioners from august 2016.
Other benefits and emoluments of contract employees and regular employees of state government.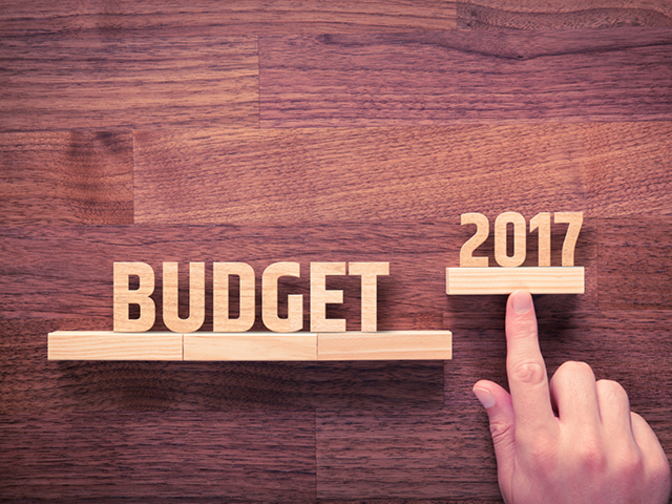 GOOD GOVERNANCE:
A major announcement in Himachal Budget 2017-18, Chief Minister Virbhadra Singh proposed for holding PrashahanJantaKeDwar in the far flung and interior areas of state to redress grievances..
MLAs can pose developmental schemes under RIDF upto 80 crore to NABARD.
"VidhayakKshetriyaVikasNidhi" increased to ` 1crore from 10 lakh.
INFORMATION TECHNOLOGY;
"Software Technology Park" to be set up in Shimla and in Kangra District.
220 crore proposed for State Food Subsidy scheme.
E- PROCUREMENT system for online tendering.
HORTICULTURE:
World Bank aided Horticulture Development Projectof 1,134crore will be made operational in 2017-18.
AGRICULTURE:
The Subsidy under "MukhyaMantriKhetSanrakshanYojna" enhanced from 60 percent to 80 percent with a budget provision of
New "MukhyaMantri Green House Renovation Scheme" launched for replacement of polysheets.
The chief minister announced to provide Soil Health Card to all the farmers of the state. A total budget of Rs. 783 Crore has been provided to the agriculture sector in the state. In a boost to organic farming the chief minister announced to set up 200 organic villages in the state, besides various other schemes.
ANIMAL HUSBANDARY:
"PanchayatPashudhanPurskarYojna" with a budget provision of 80crore.
75 percent subsidy for setting up of Milk Processing and Chilling Plants by Dairy Co-operative Societies.
11 helplines to be started by Animal Husbandry Department to facilitate farmers.
ENVIRONMENT AND ECOLOGY:
800 crore new H.P. Forest Eco-System Management and Livelihood Project and new 1,300 crore H.P. Forests for Prosperity to be started.
–  A permanent bird ringing station to be established at Ramsar Wetland site, Pong Dam.
– Six Bio–diversity tourism parks will be developed at Kanlog, Sarahan, Kasol, Dharamshala, Paonta Sahib and Mandi.
Pollution Control Board to support 10 Municipal Committees/Nagar Panchayats in Urban Solid Waste Management.
EMPLOYMENT GENERATION:
New "MukhyaMantri Rural Livelihood Scheme" started to provide livelihood to rural youth.
Additional 42crore will be provided to ZilaParishad and PanchayatSamitis for development.
New Mukhyamantri Livelihood Scheme Announced with special discount in interest on loans.
Graduate Ad-on Programme" will be started to improve the employment potential of the youth.
1,000 new bus permits will be given to unemployed youth.
INFRASTRUCTURE DEVELOPMENT:
New "MukhyaMantri Rural Road Repair Scheme" with a budget provision of
115 crore provided for various housing schemes. 50 crore earmarked under AMRUT scheme.
50 percent grant to Urban Local Bodies for construction of parking and 60 percent subsidy for development of public parks.Online map approval/planning permission introduced..
160 crore kept for completion of 160 Drinking Water Supply and 70 Irrigation Schemes in 2017-18.
837 crore World Bank funded project for Shimla city to be started.
670 crore new project to cover leftout habitation with assistance of BRICS Bank.
75 crore kept for Command Area Development works.
Government has provided ` 2,890 crore of loan to HPSEBL to repay high cost debts, which will save 90 crore of interest payment per annum to HPSEBL.450 crore provided for subsidizing electricity to domestic consumers.
Two State of Art Industrial areas in Pandoga and Kandrori will be made functional.
10 crore provided for "State Mission on Food Processing."
New "Integrated Scheme for Development of Handloom and Handicraft" scheme started.
265 crore equity and grant-in-aid to HRTC.Lakkar Bazar Bus Stand to be re-allocated to Dhalli.
50 crore will be provided under "MukhyaMantriSadakYojna."
EDUCATON:
10 crore will be provided for construction of building of National Law University
For enhancement of learning ability, New "Prerna Plus" and "Prayas Plus" schemes for students.
HEALTH CARE:
Medical University to be set up in District Mandi.
Special efforts to develop cancer treatment facility in the State. Critical Care Package for cancer patients enhanced from 1 lakh 75 thousand to 2 lakh 25 thousand.
AMRIT pharmacy to be opened in Medical Colleges and District Hospitals.
25 thousand Induction plates will be provided to BPL women.
REAL STATE SECTOR:
Stamp duty reduced from 6 percent to 3 percent for the purchase of land for residential purpose by women.
SOCIAL SECTOR:
The chief minister also announced to provide Rs. 1000 unemployment allowance for those unemployed educated youths, having minimum +2 qualification or above and Rs. 1500 for the disabled in the state . A budget provision of Rs. 150 Crore has been made for this scheme.
Social Security pension to be enhanced from ` 650 per month to ` 700 per month.
– Pension to be provided to all mentally retarded children /adults without any income limit.
–   The pension of persons aged 80 years and above increased from ` 1,200 to ` 1,250 per month.
– 2,000 co-contribution under "Atal Pension Yojna.
– Reservation quota for Persons with Disabilities proposed to be increased from 3 percent to 4 percent in Government jobs.
DISASTER MANAGEMENT:
260 crore kept for Disaster Management.
[/lockercat]HPPCS Notes brings Prelims and Mains programs for HPPCS Prelims and HPPCS Mains Exam preparation. Various Programs initiated by HPPCS Notes are as follows:-
For any doubt, Just leave us a Chat or
Fill us a querry
––