#DMPQ #Mains #Prelims #CurrentAffairs #StateGK
HIMACHAL PRADESH
15 para companies deployed on inter-state barriers
Gearing up for the Himachal Assembly elections slated on November 9, the state police have deployed 15 companies of paramilitary force mainly on the inter-state barriers to check illegal movement of cash, liquor, drugs and items of inducement to voters.
A total of 93 such barriers have been operationalised on the borders of Punjab, Haryana, Uttarakhand, UP and Jammu and Kashmir. The maximum number of 25 barriers is in Una district followed by 21 in Kangra.
A total of 65 companies of paramilitary force – 23 from the ITBP, 15 each from the BSF and the CRPF and 12 from the SSB — will be deployed for the elections by the state police, said DGP Somesh Goyal adding that the state police would mobilise approximately 11,500 policemen and 6,000 Home Guard jawans to provide security during the electoral process.
Himachal Pradesh has about 87,000 arms licence holders, which is one of the highest arms to population ratio in the country. Over 36,000 arms have already been deposited with the police so.
INTERNATIONAL
·       World Food Day is observed on 16th October
Food and Agricultural Organisation of United Nations (FAO) celebrates World Food Day each year on 16 October to commemorate the founding of the Organization in 1945. Events are organized in over 150 countries across the world, making it one of the most celebrated days of the UN calendar.
The Theme for World Food Day 2017 is "Change the future of migration. Invest in food security and rural development".
The day is to celebrate the progress we have already made towards reaching #ZeroHunger.
·       Audrey Azoulay elected as Director General of UNESCO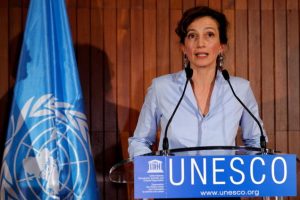 Former French Culture Minister Audrey Azoulay (45) was elected as new Director-General of United Nations Educational, Scientific and Cultural Organization (UNESCO)the UN's education, science, and culture agency.
She succeeds Irina Bokova of Bulgaria.
She defeated Qatar's Hamad bin Abdulaziz al-Kawari in the final 30-28 vote after she won a runoff with a third finalist from Egypt.
·       Roger Federer Cruises to Shanghai Masters Title
Roger Federer won world number one Rafael Nadal 6-4 6-3 to win the Shanghai Masters and register his fourth victory of the year over his Spanish rival.
He is the only man who can still stop Nadal ending the year as number one, took an hour and 12 minutes to claim his sixth title of the year and his second Shanghai crown with a clinical performance.
He has also won a record eighth Wimbledon title & became the tournament's oldest champion with a straight-sets victory over Marin Cilic. Federer claimed his 19th Grand Slam title in Wimbledon title 2017.
NATIONAL 
·       Union Government has started sending money to Gram Panchayats directly
Minister of State Information and Broadcasting Rajyavardhan Rathore stated that Union Government started sending money to Gram Panchayatsdirectly so that they can plan their development works on their own.
Around 29 crore new accounts have been opened in last two and half years and now benefits of different schemes are being transferred directly to the accounts of the beneficiaries.
He has made the Banks accountable and if they refuse to give the loan to any person under MUDRA Yojna then they have to give a reason.
·       INS Kiltan commissioned into Indian Navy in Visakhapatnam
Indigenously-built anti-submarine warfare stealth corvette INS Kiltanwas commissioned an into the Indian Navy at the Eastern Naval Command (Naval Dockyard) in Visakhapatnam, Andhra Pradesh.
It is India's first major warship to have a superstructure of carbon fiber composite material resulting in improved stealth features, lower top weight.
INS Kiltan commissioned into Indian Navy in Visakhapatnam October 16, 2017.
·        Indian Airports need $45 billion investment to improve capacity by 2030
India must invest around$45 billionto generate an additional capacity of handling 500- 600 million passengers at its airports by 2030.
As per the estimation of Centre for Asia Pacific Aviation (CAPA) the country's top 17 airports current capacity is 298-316.5 million passengers per annum approximately.
The ten airports namely Pune, Jaipur, Srinagar, Lucknow, Dehradun, Agartala, Guwahati, Kozhikode, Mangalore, and Trichy are managed by the Airports Authority of India (AAI), are already operating "beyond their design capacity".
·       Singer T M Krishna wins Indira Gandhi National Integration
Singer T M Krishna won 30th Indira Gandhi Award for National Integrationfor the year 2015 and 2016.
He is a pre-eminent vocalist in the Carnatic tradition of Indian classical music and has been an activist who has worked to break down caste-barriers in the society.
The award is conferred for promoting national integration and strengthening nation's sense of solidarity.
It carries a citation and a cash prize of Rs. 10 lakh.
[/lockercat]HPPCS Notes brings Prelims and Mains programs for HPPCS Prelims and HPPCS Mains Exam preparation. Various Programs initiated by HPPCS Notes are as follows:-
For any doubt, Just leave us a Chat or
Fill us a querry
––