#DMPQ #Mains #Prelims #CurrentAffairs #StateGK
HIMACHAL PRADESH
Literacy rate low among slum kids: Survey
With little focus on enrolling children in anganwari centres or schools, a low literacy level has been noticed among the children of jhuggi dwellers residing in the state's industrial hub of Baddi-Barotiwala-Nalagarh (BBN).
A survey conducted by revenue staff revealed that there were 3,230 jhuggis here which were spread over an area of 118 clusters and located in 40 revenue circles. As many as 90 per cent of these jhuggis comprising 2,956 jhuggis lie in the 101 clusters of 33 villages of Baddi tehsil.
Though the BBN Development Authority had introduced a low cost housing scheme for people willing to erect such structures on their private land, barely 12 people came forward to avail its benefits. About 200 to 250 such units have been constructed on private land under this scheme.
INTERNATIONAL
·        Birmingham to Host Commonwealth Games in 2022
The Birmingham city will host the Commonwealth Games in 2022.
The 2022 Commonwealth Games were originally given to Durban in 2015, but the South African city was stripped of the event this year because of financial difficulties.
The multisports event was last in Britain in 2014 when it was held in Glasgow.
Before that, Manchester hosted in 2002.
NATIONAL 
·        National Mathematics Day is observed on 22nd December
The famed Mathematician Srinivasa Ramanujan'sbirth anniversary on December 22 is celebrated as National Mathematics Day.
It was in 2012 that then Prime Minister Manmohan Singh declared  December 22 as National Mathematics Day.
In 1917, Ramanujan was elected to be a member of the London Mathematical Society. In 1918 he also became a Fellow of the Royal Society, becoming the youngest person to achieve the feat. He passed away on April 6, 1920.
Darpan Launched For Financial Inclusion Of Rural Population
The Minister of Communications Shri Manoj Sinha has launched DARPAN – "Digital Advancement of Rural Post Office for A New India" Project to improve the quality of service, add value to services and achieve "financial inclusion" of un-banked rural population.
He said, the goal of the IT modernization project with an outlay of Rs. 1400 Crore is to provide a low power technology solution to each Branch Postmaster (BPM) which will enable each of approximately 1.29 Lakhs Branch Post Offices (BOs) to improve the level of services being offered to rural customers across all the states.
Shri Sinha said that as on date, 43,171 Branch Post Offices have migrated under the "DARPAN"project with the aim of financial inclusion to rural population and it is targeted to complete the project by March, 2018.
·        Hamesha Vijayee Exercise Held in Rajasthan
The Indian Army's Southern Command had conducted exercise 'Hamesha Vijayee' in the deserts of Rajasthan to evaluate the capability of the armed forces to strike deep into the enemy territory in an integrated air-land battle.
The military exercise is being carried in the general area of Barmer and Jaisalmer and aimed at fine-tuning surveillance and destruction mechanisms to support precision strikes and manoeuvres by network-enabled forces.
Railways plans to make all stations 100% LED lit by March-end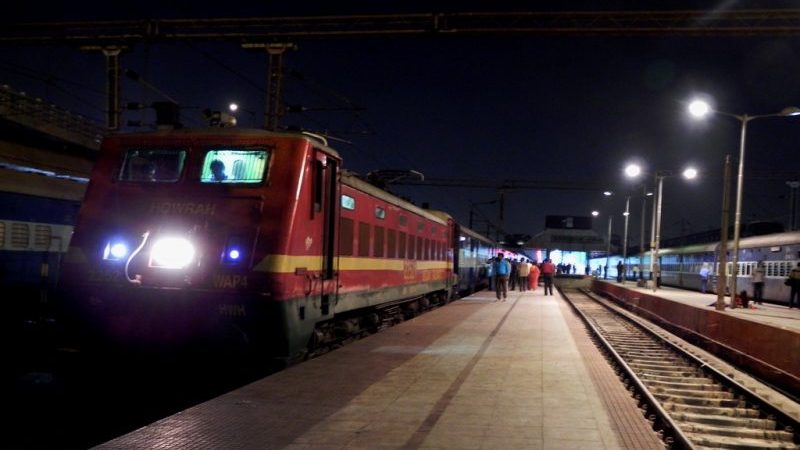 In an eco-friendly measure to cut power consumption, the Indian Railways planned to make all stations cent per cent LED lit by March 31, 2018.
The railways said it was actively working to provide 100 per cent LED lighting for energy needs in railway staff colonies, stations and platforms.
Till November 2017, about 3,500 railway stations had already been provided with cent per cent LED lights. About 20 lakh such lights were installed.
Gk bit – LED
The light-emitting diode (LED) is one of today's most energy-efficient and rapidly-developing lighting technologies. Quality LED light bulbs last longer, are more durable, and offer comparable or better light quality than other types of lighting.
A light-emitting diode (LED) is a semiconductor device that emits visible light when an electric current passes through it. The light is not particularly bright, but in most LEDs it is monochromatic, occurring at a single wavelength. The output from an LED can range from red (at a wavelength of approximately 700 nanometers) to blue-violet (about 400 nanometers). Some LEDs emit infrared (IR) energy (830 nanometers or longer); such a device is known as an infrared-emitting diode(IRED).
CFL bulbs are referred to as "Compact Fluorescent light" light bulbs are more energy efficient bulbs as compared to the incandescent bulbs, but less efficient than LED. These bulbs are made up of Argon and the small amount of mercury. They are used in offices, stores, homes, and schools, etc. for the lighting purposes.
·        Indian Navy Conducts Exercise Naseem-Al-Bahr with Oman Navy
Indian Naval ShipsTrikand and Teg are deployed to Oman for bilateral exercise'Naseem Al Bahr' or 'Sea Breeze'.
This exercise is the 11th edition and has been a biennial feature since 1993.
The bilateral relation between Indian and Oman were formally established with the signing of a 1953 Indo-Oman Treaty of friendship, Navigation and Commerce, a first between India and an Arab country.
The first exercise Indian Navy with Royal Navy of Oman was conducted in 1993.
·        India's First design University Opens in Haryana
India's first and only design university, ' the World University of Design' opened its campus at Sonipat, Haryana. The University is promoted by Om Parkash Bansal Educational and Social Welfare Trust of Mandi Gobindgarh, Punjab.
The university is currently located in a sprawling lush green picturesque campus with the state-of-the-art infrastructure and world-class facilities. WUD is India's first university dedicated to education in the creative domain.
[/lockercat]HPPCS Notes brings Prelims and Mains programs for HPPCS Prelims and HPPCS Mains Exam preparation. Various Programs initiated by HPPCS Notes are as follows:-
For any doubt, Just leave us a Chat or
Fill us a querry
––