#DMPQ #Mains #Prelims #CurrentAffairs #StateGK
Rajasthan: Minerals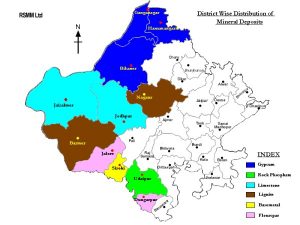 Rajasthan enjoys a virtual monopoly in the production of minerals like wollastonite, lead, zinc, calcite, gypsum, rock phosphate, silver, marble, sandstone and serpentine (green marble). There are approximately 3,403 mining leases for major minerals and 11,861 minor leases and 18,249 quarry licenses in the State.
Western Rajasthan has proven large deposits of hydrocarbons and Barmer has estimated reserves of 6.5-7.2 million barrels (900-1000 million tonnes of crude oil equivalent). 25-30 billion cubic metre natural gas reserves have been discovered in Manohar Tiba, Tanot, Dandewala and Shahgarh in Jaisalmer basin. Additionally, 25 million tonnes heavy oil reserves and 53 MT bitumen have been discovered in Bikaner-Nagaur Basin.
Mining sector in Rajasthan is another pre-eminent sector next to Agriculture. There are about 42 major and 28 minor minerals found in the region. This sector provides employment to about two million mine workers throughout the state.
GOLD
A total of 118.88 million tonnes of Gold ore resources were estimated in the State including 105.81 million tonnes resources of Bhukhia-Jagpura-Delwarabelt (Banswara) with 0.50gm/t cut-off grade. Gold was also proved along with Copper in Dhani-Basri area of Dausa district, Khera-Mundiawas area of Alwar district and Dokan area of Sikar district. Beside above, gold is also extracted as by product in Khetri Copper-Belt (district Jhunjhunu).
COPPER
In the State copper deposits are located in the districts of Jhunhunu, Sikar, Sirohi, Udaipur, Bhilwara, Ajmer, Alwar, Bharatpur, Chittorgarh, Rajsamand and Dungarpur. With resources of 809.09 million tonnes, the State possesses substantial share of 54% of the total resources of country. The State is the second leading producer of copper concentrate contributing 41% of the nation's output.
IRON
The Iron-Ore Deposits are located in the district of Jaipur, Udaipur, Jhunjhunu, Sikar, Bhilwara, Alwar, Bharatpur, Dausa and Banswara. About 2621 million tones resources of Iron–Ore (Both Hematite & Magnetite) are estimated in the State. The important localities of Iron-Ore are Morija- Neemala (Jaipur), Lalsot (Dausa), Rampura, Dabla (Sikar), Taonda (Jhunjhunu), Pur-Banera, Bigod (Bhilwara)
Non-Ferrous
The huge sandy expanse of Rajasthan is rich in the white and bright Wollastonite (used primarily in ceramics, plastics and as a paint filler), lead, zinc, calcite (basically used as a construction material), gypsum, rock phosphate (to make organic manure), silver, marble, sandstone and serpentine (green marble), dolomite, emeralds and garnets.
Large deposits of hydrocarbons have been found in Western Rajasthan and an estimated reserve of 1000 million tonnes of crude oil equivalents in Barmer. In the Jaisalmer basin region in Manohar Tiba, Tanot, Dandewala and Shahgarh 25-30 billion cubic metre natural gas reserves have been discovered. The Bikaner-Nagaur Basin also has rich heavy oil reserves.
Rajasthan is the second largest mineral producing state in India and houses about 90% of the total mineral reserves of the country.
It shares 24% of the aggregate national production of non-metallic minerals.
The following table shows the share of Rajasthan in terms of reserve and production of the principal minerals-

| | | |
| --- | --- | --- |
| Minerals | Reserve(million tones) | Production (million tones) |
| Copper Ore | 35 | 0.98 |
| Lead and Zinc Ore | 75 | 2.64 |
| Gypsum | 70 | 2.86 |
| Limestone | 1990 | 21.19 |
| Rock Phosphate | 60 | 1.18 |
In India, Rajasthan is the greatest producer of non-ferric metals such as copper and zinc and accounts for 40% of the country's copper production and 100% of zinc production. The state also accounts for 85% of lead production, 94% of gypsum, 76% of silver ore, 68% of feldspar, 84% of asbestos and 12% mica.
The dry terrain of Rajasthan is also repository of colossal slabs of stone and accounts for 65% of India's stone production. The state accounts for 90 % of the marble, slate and sandstone production. In 2000-01, the stone exports from Rajasthan were estimated at around 2324 million rupees.
Thus the mineral and mining sector of Rajasthan is a very important revenue earner for the state. From this sector Rajasthan earns (as mineral royalty) an annual income of more than US$ 100 Million.
Rajasthan houses rich salt deposits at Sambhar, which is India's largest inland salt lake. There are large copper mines in the.Khetri region. Khetri Copper Complex (KCC) has copper smelting and refining facilities developed and maintained by Hindustan Copper Limited.
Hindustan Zinc Limited manages the large zinc mines at Dariba. Markana near Jodhpur is the site where white marble is mined. It is said that Markana marble was used in the making of the Taj Mahal.
Rajasthan State Mines and Minerals Limited (RSMML) is one of the significant Government undertakings of Rajasthan that is involved in the mining and marketing of non metallic minerals such as Limestone, Rock Phosphate, Lignite and Gypsum.
The Sanu Limestone Unit in Jaislamer is the largest producer and supplier of steel grade limestone in the country. This kind low silica and hard compact limestone is best suited for Steel Industry. This region houses about 167 million tonnes of S.M.S grade limestone and 2153 million tonnes of cement grade limestone. Steel Authority of India Ltd, Tata Iron & steel Company Ltd, Rastriya Ispat Nigam Ltd, Indian Iron & steel company and Jindal Iron & Steel Ltd form the prestigious list of clients of the Sanu Limestone Unit.
Limestone Unit, Gotan near Jodhpur contains very low silica, high calcium limestone. Shree Ram Vinyl & Chemicals, J. K. White Cement Works, and ACC Ltd etc are their esteemed clients. Fluorspar Unit, Bhinmal near Jodhpur has mineral Fluorspar deposits in the volcanic rocks. Fluorspar is an essential mineral in steel and aluminium industry.
Rajasthan State Mines & Minerals Limited is one of the premier public sector enterprises of Government of Rajasthan, primarily engaged in mining and marketing of industrial minerals in the State. The prime objective of the company is to achieve cost effective technological innovations in the mining of minerals and to diversify into mineral-based downstream projects.It is primarily engaged in Mining and Marketing of High Grade Rock phosphate, Lignite, Limestone & Gypsum (Non-Metallic minerals) through its mines located at various locations at Rajasthan.
Following four mineral based Strategic Business Units & Profit Centres (SBU & PC) namely Rock Phosphate, Lignite, Gypsum and Limestone have been set up as a part of corporate restructuring:
Strategic Business Unit and Profit Centre – Rock Phosphateat Udaipur. Jhamarkotra Phosphate Rock Mine
Strategic Business Unit and Profit Centre –Gypsumat Bikaner
Strategic Business Unit and Profit Centre – Limestoneat Jodhpur
Strategic Business Unit and Profit Centre –Ligniteat Jaipur
[/lockercat]HPPCS Notes brings Prelims and Mains programs for HPPCS Prelims and HPPCS Mains Exam preparation. Various Programs initiated by HPPCS Notes are as follows:-
For any doubt, Just leave us a Chat or
Fill us a querry
––