#DMPQ #Mains #Prelims #CurrentAffairs #StateGK
Rajasthan – Drainage System
Rajasthanis biggest state in area with 5.5 percent population but only 1 percent water resources of the country. State is divided in to 13 watersheds and 59 sub-watersheds. Most of the Rivers originate from the Aravali hills and flow either in east or west. Those Rivers flowing in east merge with Yamuna. Those flowing in west fall into Gulf of Khambhat or lost in desert.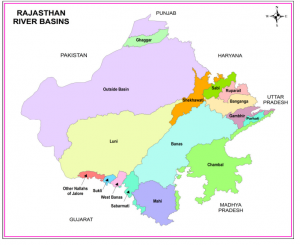 The state encompasses a huge area of the Thar Desert. As a result, there are very few rivers in the western part of the state. The Aravali Range acts as the water divider in the state of Rajasthan . This ancient mountain range has divided the river system of Rajasthan in two halves.
Chambal and Luni are the two main rivers of Rajasthan. Chambal is the only perennial river of the state, which enters Rajasthan at Chaurasigarh, after originating from the northern slopes of the Vindhya Range. This river flows along the eastern border between Rajasthan and Madhya Pradesh. Fed by its tributaries, Chambal flows northwards across the state and meets the Yamuna River.
Luni, one of the major rivers in Rajasthan, originates from the Aravali Range, 7 kilometer north of Ajmer. This is the only river that flows across the western part of Rajasthan. The river flows to Gujarat, where it drains at the Rann of Kutch. Luni is a seasonal river, which is also comparatively shallow than other rivers of the state. This river is also supplemented by many tributaries, which flow from the Aravali Range.
There are also other Rajasthan riversmm, which flow across the state. Most of these rivers are seasonal. Ghaggar is the intermittent stream, which flows through Rajasthan and disappears at the heart of the Thar Desert. Some of the other important Rajasthan Rivers are Kali, Banas, Banganga, Parvati, Gambhiri, Mahi, Kakni, Jokham, Sabarmati, Katli, Sabi and Mantha.
Smaller streams and their tributaries drain the west and south of the Aravalli axis. Rivers Luni, Sukri, Banas, Sabarmati and Mahi are most significant. These streams are non-perennial in nature. On the eastern side of the watershed, the river Chambal is joined by the river Banas along with its main tributaries like Khari, Moshi and Morel on the left bank and Berach, Bajasen and Golwa on the right. The river Chambal ultimately joins the river Yamuna in Uttar Pradesh.
The inland drainage system is the most characteristic feature of the drainage system of Rajasthan which is that nearly 2 per cent of the area of the state. Nearly all this area lies west of the Aravalli range. In this part Kanti basin, Sota and Sahibi basin, Barah basin of the Luni basin are found in large number of separate drainage basins. The desert tract in the western part soaks all the water of these rivers.
The river Luni which rises at Ana Sagar at Ajmer is the only significant water course in this area is and flows towards the southwest for a distance of about 32 km through the districts of Jodhpur, Barmer and Jalor in the semi-arid tract west of the Aravalli range., the river has a small catchment area of about 32 sq km at the source at Talod Road. A small tributary joins from the Pushkar valley and the basin of the river widens. Near Ajmer, the river flows down the Aravalli slope and after 10 km flows towards the southwest. This river drains the total catchment area of about 34,866.40 sq kilometers. It recieves many smaller hill torrents from the western slope of the Aravalli range, like Lalri, Ghuhia, Bandi, Sukri, Jawai, Jojri and Sagai, all joining on the left bank. Up to Balotra the water of river Luni but lower down it becomes more and more saline till the river drains near the Rann of Kutch. The river Luni increases in width at Jodhpur district rather than deepening the bed. This is because the floods develop so quickly due to the nature of rainfall that the river has no time to rub the bed. The River Luni spills over the country and occasionally damages the railway line to which it actually runs parallel from Luni Junction to Gole during the rainy season.
The southern and the eastern part of Rajasthan, south, southeast and east of the Aravalli range receives more than 80 cm rainfall and has some important streams. The river Chambal is the largest stream and is joined by some tributaries like the Banas, the Kali Sindh, and the Parbati. The river Chambal is a perennial river while its tributaries might occasionally turn completely dry and exhibit their stony beds. The river Chambal rising from the northern flanks of the Vindhyan scarps near Manpur (884.4 m) in the south of Mhow runs for about 325 km through a long narrow and steep gorge which overhangs the valley on both the sides rising about 60 m to 90 m above the valley floor. The river falls at 505 m near Chaurasigarh to Kota. The river Chambal is joined by its first major tributary – river kali Sindh near Monera village. Another tributary Parbati joins about 48 km downstream. Taking a straight course for about 212 km, it bends southeast at Pinahat and flows to join the river Yamuna near Muradganj, after a total run of about 965 kilometres. For a length of about 153 km the river flows entirely in Rajasthan. the river forms the boundary between Rajasthan and Madhya Pradesh from Palia to Pinahat for about 241 km. it forms the boundary between Madhya Pradesh and Uttar Pradesh Before joining the river Yamuna in Uttar Pradesh. In Rajasthan two other tributaries Kurai and Banas join the Chambal river on the left bank.
The Banas river flows through the heart of the Mewar Plains. Its chief tributaries are Berach, Kothari, Khari, Dhoond and Morel. The river Banas rises from the catchment area lying between Kankroli and Nathdwara and flows towards the east as far as Mandalgarh and further it flows towards the northeast up to Tonk where it again turns towards the east and finally this river turns at right angles and flows south to join the river Chambal. The upper reaches of this stream are hilly and have good rainfall.
River Basin Areas in Rajasthan State
S.No.                          Name                                     Basin Area (Sq.Km.)
1                                 Shekhawati                           9691
2                                 Ruparail                                 2550
3                                 Banganga                             9949
4                                 Gambhiri                                4934
5                                 Parvati                                    1891
6                                 Sabi                                        4615
7                                  Banas                                    46902
8                                  Chambal                                31229
9                                 Mahi                                       16598
10                                Sabarmati                              4118
11                                Luni                                        69580
12                                West Banas                                     1835
13                               Sukli                                       994
14                               Other Nallah of Jalore         1775
15                               Outside Basin                       135603
TOTAL                                  342264
Other Rivers Originating in Rajasthan
Banganga River – originates from Bairath in Jaipur district, flows through Ramgarh, Dausa and Baswa about 164 km and enters Vair tahsil Bharatpur and then into Agra district of Uttar Pradesh.
Sukel River – Originates at hills of Jalor and falls in Rann of Katchh.
Jakham River – Originates at Chhoti Sadri in Chittorgarh district, Rajasthan.
Som River – Originates at Bichhawara (Jhadol) in Udaipur district, Rajasthan.
Kantli River – Originates at Khandela hills in Sikar district, Rajasthan.
Kakney River – Originates at Kotri hills in Jaisalmer district, Rajasthan.
Kothari River – Originates at Dewas (Jhadol) in Udaipur district, Rajasthan.
Sabarmati River – Originates at Padrara (Gogunda) hills in Udaipur district, Rajasthan.
Lakes of Rajasthan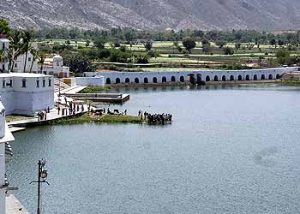 TYPES OF LAKES
Sambhar, Deedwana, Pichhola, Panchpadra, Lunkaransar
Jaisamand, Rajsamand, Fateh Sagar, Udai Sagar, Ana Sagar, Nakki, Pushkar, Siliserh, Kolayat, Balsamand
Sambhar Lake:-
Situated – on the border of Jaipur and Nagaur districts
Length – 32 Km ; Breadth – 3 Km to 12 Km
Max. Lake Area – 234 Sq. Km
Districts- Jaipur, Nagaur
It is the largest Lake of Rajasthan
It produces/makes 35 crore tons of common Salt (Nacl, No2 So4)
Salt is manufactured by Solar Evaporation method from March to July
Deedwana Lake:-
Situated – near Deedwana Town in Nagaur district
Length – 4 Km; Breadth – 2 Km
District – Nagaur
Depression is surrounded by sand dunes/Hills but in west surrounded by isolated spur of the Aravalli.
Bed of the depression shows the presence of block clay.
Pachpadra Lake:-
Situated – near Pachpadra in Barmer district
Districts – Barmer
Area – 25 Sq. Km
Area of salt pits in this lake – 5000 Sq. m
Its salt corresponds more to the sea salt
Lunkaransar Lake:-
Situated – near Lunkaransar Town in Bikaner district
Area – 6 Sq. Km
District – Bikaner
Mainly sodium chloride (Nacl) is produced.
Sweet Water Lakes
Jai Samand Lake:-
Built by – Maharana Jai Singh in the year 1691
Situated-Udaipur
Breadth – 1 Km to 8 Km, with circumference of 50 Km
It is a manmade lake/artificial lake
It is the largest fresh water lake of Rajasthan
It contain seven islands inhabited by Bhils, they use rough boats, called Bhil for transportation
Two canals (i) Shyampura, (ii) Bhat canals built for irrigation purposes
Raj Samand Lake:-
Built by – Maharaja Raj Singh of Udaipur in 1662 A.D.
Length – 6.5 Km ; Breadth – 3 Km
Districts – Raj Samand district
It is used for irrigation
It is feed by Banas feeder canals
Raj Samand is famous for one of the largest literary works ever inscribed on stone.
Pichhola Lake:-
Built by – Banjara in the 15th century
Renovated by – Maharaja Udai Singh in early 20th century
Length – 7 Km ;Breadth – 2 Km
Situated – Near Udaipur city
Fateh Sagar and Swaroop Sagar are parts of the same lake
Fateh Sagar Lake:-
Situated – In North of Pichhola Lake
Area – 3 Sq. Km
It is a artificial Lake
It has a small island which has been made a public park with a fountain
Udai Sagar Lake:-
Built by – Maharana Udai Singh between 1559 and 1565
Situated – 15 Km east of Udaipur
Length – 4 Km ;Breadth – 3 Km
It is the site of famous meeting between Maharana Pratap and Kunwar Man Singh
Ana Sagar Lake:-
Built by – Ana Ji the Lord of Ajmer in 1137 A.D.
Situated – Ajmer city
It emperor Jahangir built Daulat Bagh (Subhash Garden) near this lake
Emperor Shahjahan built 378 m log ' Baradari' on the lake to have a scenic view.
Nakki Lake:-
Situated – Near Mount Abu
Area – 9 Sq. Km
Deep – 35 m
It is a small Natural Lake
Pushkar Lake:-
Situated – 11 Km west of Ajmer City
Area – 3 Sq. Km
It is small Natural Lake
It is of an irregular elliptical shape surrounded by hills except in the east
Around its bank are big temples cenotaphs and bathing Ghats.
Hindu submerges the ashes of their departed relatives in the lake, as it is considered to be very holy.
Siliserh Lake:-
Situated – 12 Km west of Alwar City
Area – 10 Km
It is a small Natural Lake
It is surrounded on all sides by low hills
King Jai Singh of Alwar built a system of canal irrigation from this lake in early 20th century
Kolayat Lake:-
Situated – Near Kolayat Town about 48 Km South West of Bikaner City
Here is the famous Kapil Muni Ashram
Every year on Kartik Purnima, there is a fair attended by Hindu worshippers.
Bal Samand Lake:-
Situated – About 6 Km from Jodhpur City
It is a large Artificial Lake
It has got a small palace & small pavilions living on its banks.
It is just near the famous Mandore Gardens.
[/lockercat]HPPCS Notes brings Prelims and Mains programs for HPPCS Prelims and HPPCS Mains Exam preparation. Various Programs initiated by HPPCS Notes are as follows:-
For any doubt, Just leave us a Chat or
Fill us a querry
––