#DMPQ #Mains #Prelims #CurrentAffairs #StateGK
Awards of Himachal Pradesh:-
Awards Won by NIC Himachal Pradesh in Year 2016 – 17:-
Shri Ravi Shankar Prasad, Honorable Union Minister for Information Technology, Law and Justice awarded the appreciation certificate and memento to Sh. Rakesh Kumar, District Informatics Officer, Bilaspur, NIC Himachal Pradesh, during the National Grass-root Informatics meet, on 19th January 2017 in New Delhi for his exemplary services towards Digital Payment initiatives. Sh. P.P. Chaudhary, Union Minister of State for IT, Law and Justice, Ms. Aruna Sundarajan, Secretary, MeitY, Dr. Ajay Kumar, Additional Secretary, MeitY, Dr. Neeta Verma, Director General, NIC, SIO/ASIOs of State Centres and DIOs/ADIOs from all over the country were present during the three-day National meet held from 19-21 January 2017.
Digital India Award 2016 to Mid Day Meal Mobile Application of NIC Himachal Pradesh :-
The Mid Day Meal mobile App of NIC Himachal Pradesh has been awarded the Digital India Gold Award 2016 on 19th December 2016 during the presentation ceremony of the Awards at Vigyan Bhawan, New Delhi. Mid-Day Meal mobile app is meant for effective reporting and monitoring of daily and monthly mid-day meal data to be sent by the schools. The app provides additional data communication mechanism for the MDM in-charge/teacher who has to send the daily/monthly data using SMS. The app, once installed on android device, does not need Internet to send MDM figures as user has option to send the figure through SMS from the app. This simplifies the job of MDM in-charge, who even does not have to remember the SMS formats. The higher authorities at Block, District and State level have a very simple and effective mechanism in shape of this app on their mobile devices for effective and efficient monitoring of daily as well as monthly data transmission by all the MDM in-charge falling under their jurisdiction. The monitoring authorities can send SMS alerts to all defaulters using single button available in the app. This is a Single Android Mobile App for all States/UTs, is multi-lingual and it works offline too. Presently, 7 States/UTs of Himachal Pradesh, Rajasthan, Haryana, Uttrakhand, Mizoram, Chandigarh, Daman & Diu are using it and Madhya Pradesh, Meghalaya, Kerala, Dadar and Nagar, Haveli are on board the software. The MDM ARMS software is available at http://mdmhp.nic.in The Mid Day Meal mobile app supplements the MIS software MDM Automated Reporting and Management System-MDM ARMS, which has also been developed by the NIC Himachal Pradesh as a product and can be used by any State Government desirous of using the SMS mode as the primary mode of data collection for mid day meals served to the students in the schools.
Skoch Smart Governance Gold Award 2017:
Sarathi – Online Driving License System project of NIC has won Skoch Smart Governance Gold Award 2017. The Award has been conferred on 9th September, 2017 by Skoch Foundation during 45th Skoch Summit on 8th & 9th September 2017 at Hyderabad International Convention Centre, Hyderabad. The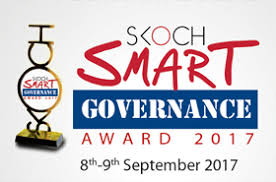 Sarathi 4.0 software has been developed by NIC team and Himachal Pradesh is first State to implement the software in all Registration and Licensing Authorities of the State and other States of India are following its implementation.
Himachal wins Best State Award in education, infrastructure and overall development:-
The Union Minister for Road Transport and Highways Nitin Gadkari on November 16 presented the Best State Award in the Big States category in education, infrastructure and overall development to Himachal Pradesh.
Tourism Awards  2012 To Himachal Pradesh:-
Himachal Pradesh state has is a proud recipient of National Tourism Award for being one of the most hospitable and enjoyable Tourism destination. It is also honored with 57th award for its performance for last 4 years consistently. More than 10% of the state revenue is earned by the tourism department of Himachal Pradesh. The infrastructure development is taken care by the states many programs in line with MNREGA, and a campaign called 'Brand Himachal' at the national level.
National GOLD E-Governance Award for the year 2015-16:-
"Integrated Online Hotel Reservation System" of HPTDC has been awarded GOLD under category Cat-X- "Innovative use of Information Communication Technology by State Government PSU/ Cooperatives/ Federations/ Socities" for the National Award on e-Governance for the year 2015-16. GOLD is the first rank prize under individual category given by Ministry of Personnel, Govt. of India. The award was presented during the 19th National Conference on e-Governance held at Nagpur on 21st-22nd January, 2016.
Himachal Pradesh Won 'Krishi Karman Award':-
The state won 'Krishi Karman Award" for its landmark achievement in showing highest production of food grains in year 2014-15, despite adverse weather conditions and rain-fed farming in the state. Total food grains production had increased to from 15.41 lakh in 2011-12 to 16.73 lakh tonnes in 2014-15. Again Himachal Pradesh won 'Krishi Karman Award' in 2017 for their record performance in the production of food grains during 2015-16.
Dharamshala Zonal Hospital Wins Kayakalp Award:-
in 2016 three district hospitals have been selected for the Kayakalp award in which the Zonal Hospital Dharamshala was the winner, where as Zonal Hospital Mandi was the runner up and Regional Hospital Sirmour has won the commendation award.
Himachal Pradesh gets national award for renewable energy popularisation:-
In 2015. Himachal Pradesh has received national award in recognition of its outstanding contribution in the field of renewable energy.
Project of the Year 2017 :-
Tata Housing, bagged the 'Project of the Year' title at the prestigious Project Management Institute (PMI) India Awards 2017.  This award was presented to Myst, a joint venture between Tata Housing and Impact Projects, and India's first residential development created using biophilic architecture.
Himachal Pradesh Mahila Vikas Protsahan Yojana for women award:-
This scheme provides a state level award for the persons/organization working for the development and empowerment of women in the field of area such as health, education, sports, social services and art and culture is granted.
[/lockercat]HPPCS Notes brings Prelims and Mains programs for HPPCS Prelims and HPPCS Mains Exam preparation. Various Programs initiated by HPPCS Notes are as follows:-
For any doubt, Just leave us a Chat or
Fill us a querry
––