#DMPQ #Mains #Prelims #CurrentAffairs #StateGK
Animal Husbandry of Himachal Pradesh
Animal husbandry is the branch of agriculture concerned with animals that are raised for meat, fiber, milk, eggs or other products. It includes day-to-day care,selective breeding, and the raising of livestock.
Animal Husbandry has a long history, starting with the Neolithic revolution when animals were first domesticated, from around 13,000 BC onwards.
NATIONAL LIVESTOCK POLICY, 2013
Livestock is an integral part of India's agricultural economy and plays a multifaceted role in providing livelihood support to the rural population. Livestock is the main source of animal protein for the population. It is estimated that about 70 million rural households own livestock of one species or the other. Women constitute about 69% of workforce engaged in livestock sector. The resource-poor small and marginal farmers and landless labourers own majority of the livestock resources. Hence sustainable development of the livestock sector would lead to more inclusive development and empowerment of women
The National Livestock Policy  facilitates  better inter-state coordination in regulating the export and import of livestock and livestock products, feed and food safety, biosecurity and conservation of indigenous breeds, which are essential for development of livestock sector.
Status of Livestock in Himachal
Livestock  is an integral to the economy of Himachal Pradesh. The contribution of major livestock products during the year 2015-16 was 12.83 lakh tonne of milk, 1,411 tonne of wool, 81.17 million  eggs and 4,005 tonnes of meat which will likely to be of the order of 13.21 lakh tonne of milk, 1,475 tonnes of wool, 97.00 million eggs and 4,130 tonne of meat during 2016-17.
Livestock   development  programme attention is paid in the state by way of:
Animal Health & Disease control
Cattle Development.
Sheep Breeding and     Development of Wool
Poultry Development.
Feed and Fodder Development.
Veterinary Education
Under Animal Health and Disease   Control,    1    State      level Veterinary Hospital, 9 Polyclinics, 48 Sub-Divisional Veterinary Hospitals, 320 Veterinary Hospitals.
Sheep rearing
For improving the quality of sheep and wool, Government Sheep Breeding Farms at Jeori (Shimla), Sarol (Chamba), Tal (Hamirpur), and Karachham (Kinnaur) are supplying improved sheep to the breeders of the State. Shepherd Insurance Scheme has been launched  which  is Centrally Sponsored scheme started during 2007-08 with the premium of 330.00 per annum.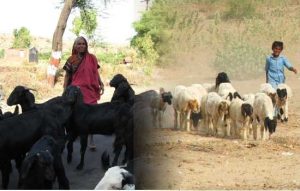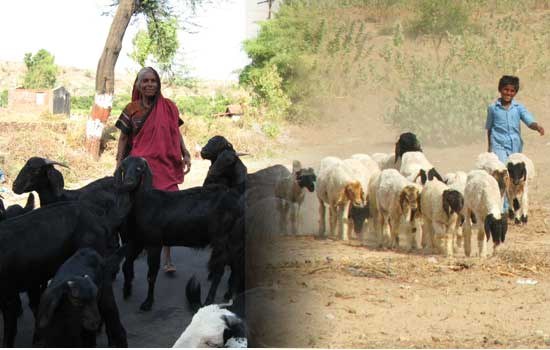 Wool Procurement and Marketing Federation has been established with the main objective to promote the growth and development of wool industry in the State of Himachal Pradesh and to free wool growers from exploitation by the middleman/traders.
Dairy
Dairy production is an integral part of the Animal Husbandry. Upgradation of indigenous cattle is being carried out by cross breeding with Jersey and Holsten. In buffalo upgradation with Murral bull is being popularized. Artificial insemination with the latest technology of Deep Frozen Semen is being practised. During 2015-16, 13.00 lakh semen straws for cows and 3.64 lakh semen straws for buffaloes were produced by sperm station. Doodh Ganga Scheme has been launched in collaboration with NABARD in the State since 25th September,2009.
H.P.  Milkfed is implementing dairy development activities in the State. The H.P. Milkfed has 895 milk producers Co-operative Societies. The total membership of these societies is 42,000 out of which 200 woman dairy co-operatives are also functioning.
Poultry
To develop poultry sector in Himachal Pradesh, department is running following poultry development schemes especially in rural areas of the State. Under Backyard Poultry Project 4 week old chicks of coloured Strain variety i.e. Chabro are supplied to the farmers of the State and One unit consists of 40-100 chicks. These chicks are produced at the two hatcheries i.e. Nahan and Sundernagar.
Major challenges
Shortage of Feed and Fodder: While the livestock population is increasing, the gap between the requirement and availability of feed and fodder is increasing primarily due to decreasing area under fodder cultivation and reduced availability of crop residues as fodder.
Low Productivity: Although India is a major producer of livestock products the average productivity of livestock is lower compared to world average. Inadequate availability of feed and fodder, insufficient coverage through artificial insemination, low conception rates, non-availability of quality males for breeding, poor management practices, high mortality and morbidity losses due to diseases.
Livestock Health: A large number of infectious and metabolic diseases prevalent in Indian livestock have serious implication for animal productivity, export potential and safety/ quality of livestock products, and many of these diseases have zoonotic implications.
Livestock and Environment: Climate change and global warming may have serious implications to the livestock sector. These may be manifested in the form of heat stress, loss of animal habitat especially in coastal areas, scarcity of quality feed and fodder.
Knowledge Gap: Most of the livestock producers being small and marginal farmers, their capacity to mobilize resources required to absorb the latest technologies developed by research institutions are limited.
Inadequate Infrastructure for Marketing, Processing and Value Addition: The livestock sector is handicapped due to inadequate marketing and processing infrastructure as a result of which the primary producers do not get remunerative prices most of the times.
Many of these challenges like animal diseases, shortage of feed and fodder and dissemination of technology would require an appropriate national strategy to address these with support of the State Governments.
LIVESTOCK AND POULTRY(in thousands) in HP
Category                             1997                2003*                    2007*                 2012*
Livestock:
Cattle                         2,002                 2,196                     2,269                  2,149
Buffaloes                    652                   773                          762                  716
Sheep                         909                     906                       901                  805
Goats                           947                  1,116                      1,241                1,119
Horses and ponies        22                    17                          13                      15
Mules and donkeys       31                   33                          26                       31
Pigs                                5                      3                             2                         5
Total-Livestock                   4571              5,046                        5,216                4,844
Poultry                              385                  764                          809                    1,104
[/lockercat]HPPCS Notes brings Prelims and Mains programs for HPPCS Prelims and HPPCS Mains Exam preparation. Various Programs initiated by HPPCS Notes are as follows:-
For any doubt, Just leave us a Chat or
Fill us a querry
––