#DMPQ #Mains #Prelims #CurrentAffairs #StateGK
RAJASTHAN
650 'rakshaks' to protect girl child in Rajasthan.
Waking up to the issue of safety and protection of girl child, the health department has trained 650 'rakshaks' to spread the message with the slogan, 'Daughters are precious', in the state.
Rajasthan, which is in a group of seven states with the lowest sex ratio at birth, has taken the initiative to directly reach school and college children and make them aware about the falling sex ratio.
The health department has trained 650 persons as volunteers from various walks of live, who will spread the message in colleges, schools and coaching institutes.
A recently released gender vulnerability index (GVI) by the Union ministry of women and child development had ranked Rajasthan at 22 among 30 bigger states in the country.
Also, the sex ratio at birth stood at a dismal 893 live female births for every 1,000 live male births as per the last three successive government sample registration statistical reports of 2010-12, 2011-13 and 2012-14.
While the survey showed that the situation has not become worse, it didn't show any improvement.
The health department will spread awareness on Mukhbir Yojna under which an award of Rs 2.5 lakh will be given to those who help in decoy operation
Under Mukhbir Yojna, 40% of cash award goes to informant, 40% to pregnant lady and 20% to the attendant of the pregnant lady
The 'Rakshaks' will inform the young generation that child sex ratio (0-6 years) in the state is on the decline.
As per Census 1991, it was 916, it slipped to 909 in 2001 and it further fell to 888 in 2011
INTERNATIONAL
·       Ola inks partnership with Microsoft for enhanced passenger experience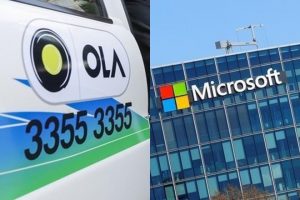 The transportation network company Ola announced its strategic partnership with Microsoft company and thereby choosing the Microsoft as its preferred cloud provider.
Ola Play customers will be able to use productivity tools such as Office 365 and Skype for Business, as well as voice-assisted controls built using Microsoft Cognitive Services and bot framework, in-car during their rides.
It helps transform the car into a high-performing, intelligent vehicle, capable of assessing fuel efficiency, engine performance, and driver performance.
NATIONAL 
Manipur to host International Sangai fest from Nov 21
Manipur is to host the 10-day Sangai International Festival beginning November 21, that will feature polo and a 21-km half marathon among other activities, with most countries confirming their participation.
Most of the Southeast Asian countries are expected to participate in the colourful festival.
Coal India launched "Grahak Sadak Koyla Vitaran App"
Shri Piyush Goyal, Union Minister of Railways & Coal has launched 'Grahak Sadak Koyla Vitaran App' benefitting customers of Coal India Limited (CIL) lifting coal through road mode.
The customer friendly app, launched recently in Kolkata on CIL's Foundation Day, helps achieve transparency in despatch operations, as a tool to monitor, whether the despatches are made on the fair principle of 'First in First Out' and keeps track of all the activities from issuance of Sale Order to physical delivery of coal by road.
DRDO Conducts Successful Flight Trial of 'NIRBHAY'
Defence Research and Development Organisation (DRDO) achieved yet another feat with the successful test flight of 'NIRBHAY' – India's first indigenously designed and developed Long Range Sub-Sonic Cruise Missile which can be deployed from multiple platforms.
It was successfully test fired from the Integrated Test Range (ITR), Chandipur, Odisha.
The missile has the capability to loiter and cruise at 0.7 Mach, at altitudes as low as 100 m.
The flight test achieved all the mission objectives completely from lift-off till the final splash, boosting the confidence of all scientists associated with the trial.
·       Paytm introduces BHIM UPI for seamless money transfer
Paytm introduced payments using BHIM UPIthrough which users can create their own Paytm BHIM UPI ID on the app, using which customers can transfer money.
Using BHIM UPI users can create their own Paytm BHIM UPI ID on the app, which will be issued by Paytm Payments Bank.
As per the National Payments Corporation of India (NPCI)guidelines, users can send up to Rs. 1 lakh a day using BHIM UPI and there is no receiving limit.
[/lockercat]HPPCS Notes brings Prelims and Mains programs for HPPCS Prelims and HPPCS Mains Exam preparation. Various Programs initiated by HPPCS Notes are as follows:-
For any doubt, Just leave us a Chat or
Fill us a querry
––