Himachal Pradesh
Dharamshala is second Himachal capital, officially
The tourist town of Dharamshala, which is also the home of Tibetan spiritual leader Dalai Lama, has officially become the second capital of Himachal Pradesh.
A second capital would benefit the residents of Kangra, Chamba, Una and Hamirpur districts, as they have to travel all the way to Shimla for official matters as ministers and officials sit there. Even the state government employees posted in Dharamshala would gain from the cabinet decision as they can now avail capital allowance for serving in the state capital.
In a first, Himachal Pradesh to make special rosin acid with Chinese technique.
To end China's monopoly in supplying rosin acid to manufacture anti-skid tyres, now India too is going to produce the special acid for which Himachal Pradesh has signed a memorandum of understanding (MoU) with Indian Synthetic Rubber Private Limited (ISRPL), Panipat, for providing basic engineering package for the preparation of the acid.
At present, only China has the patented technique. Sources said that special rosin acid along with some chemicals is used in making anti-skid tyres and Japan too knows about it.
This was the first effort in India to prepare the special rosin acid which would help in cutting down expenditure on the import.
INTERNATIONAL
India third largest terror target after Iraq and Afghanistan: US report.
India has displaced Pakistan on a list of countries facing terror attacks in 2016, with higher fatalities and injuries than its restive neighbour, according to data compiled by the US state department.
Out of 11,072 terror attacks in 2016 worldwide, India bore the brunt of 927, 16% more than 2015 (798).
More than half of the terror attacks in India in 2016 took place in four states – J&K, Chhattisgarh, Manipur and Jharkhand. Iraq is on the top of the list.
World's oldest emoji discovered' on pottery
Archaeologists have discovered what may be the world's oldest emoji — a smiley face painted on an 3,700-year-old piece of pottery.
During an excavation at an ancient city whose remains are in modern-day Turkey near the Syrian border, archaeologists found the ancient pitcher with three visible paint strokes on it — two dots for eyes and a curve for a smile.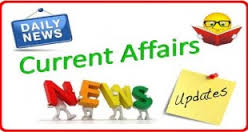 NATIONAL
Money Parked by Indians in Swiss banks hit record low.
According to the data released by Zurich-based SNB, money parked by Indians in Swiss banks have nearly halved to 676 Swiss francs (about Rs. 4,500 crore) in 2016. The data release comes ahead of a new framework for the automatic exchange of information between Switzerland and India to check the menace of black money.  SNB (Swiss National Bank) is Switzerland's central banking authority.
During 2016, the total money held by Indians fell by 45 % to stand at CHF 675.75 million. This is the biggest ever yearly decline in such funds.
ISRO's Satellite-based chips for Unmanned Rail Crossings.
ISRO's satellite-based chips are set to alert people at unmanned rail crossings
Satellite-based chip systems developed by ISRO will be used to alert road users at unmanned level crossings about approaching trains.
These chips will also help the railways in tracking train movement on a real-time basis. Initially, on a pilot basis the ISRO-developed integrated circuit (IC) chips will be installed in the Mumbai and Guwahati Rajdhani trains.
Hooters will be installed at 20 unmanned level crossings on Rajdhani routes for Guwahati and Mumbai.
Odisha to become First State in the Country to Open a Blood Bank for Cattle
Odisha is set to become the first state in the country to open a blood bank for cattle. The proposal has received the nod from the National Agriculture Development Programme (NADP). It is now awaiting the approval from the state government.
The blood bank for cattle would be set up on the premises of the Odisha University of Agriculture and Technology (OUAT) at an estimated cost of Rs. 3.25 crore.
60% of the project cost would be funded by the Central government and the rest 40% would be funded by the Odisha state government. Under this initiative, the blood would be procured voluntarily from the cattle farmers.
The blood bank will also have blood transfusion facility for cattle blood. The blood bank will help in preventing cattle deaths during deliveries and other ailments. It would come handy in saving the lives of the domesticated animals.
[/lockercat]HPPCS Notes brings Prelims and Mains programs for HPPCS Prelims and HPPCS Mains Exam preparation. Various Programs initiated by HPPCS Notes are as follows:-
For any doubt, Just leave us a Chat or
Fill us a querry
––