Himachal Pradesh
Government to launch sky-way facility for tourists in Dharamshala
Looking to attract more tourists, the Himachal Pradesh government will launch a sky-way transport facility at Dharamshala. An agreement in this regard was signed by the government with Sky Way TechnologyCorporation, the Transport and Infrastructural Development Company of Belarus in New Delhi.
The facility would not only benefit tourists to Dharamshala, but also locals who would be able to transport their goods. Urban Development and Town & Country Planning Minister Sudhir Sharma said the facility would be operational in the coming three years. He added Dharamshala would be the first town in the state to provide this transport facility at very reasonable rates.
The set up would be developed in two phases within the radius of 15 km in Dharamshala. In the first phase, an 8 km long air way would be constructed for which work begins in the next three months. The remaining portion would be completed in the second phase.
A six person bogey would run at a speed of 50 km. Passengers will have to shell out Rs 60 for travelling a distance of 15 km and as many as 20,000 passengers can avail of the facility in a day.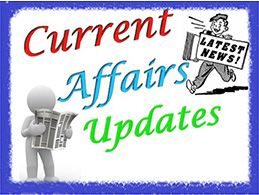 Punjab, HP among top 5 states with long life span
The average life expectancy in the country has gone up by 18 years in the last four decades, with four northern states in the top-5 list, thanks to better medical health facilities and living conditions.
The average life expectancy at birth in India is the highest in Kerala at 75.2 years, followed by Delhi NCT (73.8), Jammu and Kashmir (73.2) Punjab (72.1) and Himachal Pradesh (72), according to the census report on mortality for 2011-15. The national average stands at 68.3 years.
INTERNATIONAL
US Navy tests world's first Laser Weapons System
United States Navy successfully tested the world's first-ever active Laser Weapons System (LaWS). In the test, the LaWS deployed aboard the USS Ponce amphibious transport ship was able to destroy a drone in flight and moving targets on the Persian Gulf. USS Ponce is first ship in the world to be deployed with such advanced weapons system

LaWS operates within an invisible part of the electromagnetic spectrum. It is absolutely silent and incredibly effective.

Nelson Mandela International Day – 18 July
Nelson Mandela International Day (or Mandela Day) is celebrated every year on 18th July to honour the former Nobel Prize winner.
The day is commemorated with the slogan Take Action! Inspire Change.
The United Nations officially declared this day in November 2009. Mandela was former President of South Africa.
Nelson Mandela was awarded India's highest civilian honour, the Bharat Ratna in 1990 for his role in the anti-apartheid movement. Apart from Pakistan national Khan Abdul Ghaffar Khan, he is the only non-Indian to have received the award.
NATIONAL
National Democratic Alliance Vice President nominee Venkaiah Naidu resigns his Union Minister Post
Union Minister M Venkaiah Naidu resigned his Union Minister post for his party choosing him as a candidate for the Vice Presidential Election.
He was holding two portfolios of Information and Broadcasting, and Housing and Urban Affairs.
Smriti Irani gets Information and Broadcasting ministry and Narendra Singh Tomar gets Urban Development
Prime Minister Shri Narendra Modi handed over the Information and Broadcasting portfolio to Smt.Smriti Irani.
The Urban Development Ministry given to Shri Narendra Singh Tomar.
This announcement came after BJP leader Shri M Venkaiah Naidu, who is the Government's nominee for the position of Vice-President, resigned from his ministerial responsibilities.
J&K bags best award in adventure tourism destination
The J&K Tourism Department has received the award  in the category of 'Best Adventure Tourism Destination and Eco-Tourism Destination' at a 3-Day event organized by Indian International Travel Mart, Chennai.
Kolkata to host global business meet in November
The Indian Chamber of Commerce (ICC), in association with the West Bengal Government, will host Horasis Asia Meeting, a Global Business meeting, in the city in November.

The two-day business meet, starting November 26, will focus on sustainable business practices in various areas, including power and energy.
SBI launches 'SBI Realty' portal for home buyers
India's largest commercial bank State Bank of India (SBI) launched SBI Realty, a dedicated portal that will help home buyers to choose flats from its 3,000 approved projects across the country. SBI Realty will be a one stop integrated website for home buyers. It will help customers to choose their dream home from 3,000 SBI approved projects, which are spread across 13 states/UTs covering 30 cities.
Using the portal, customers can compare current and past trends of prices for properties in various localities in the city. It will also assist customers in calculating appropriate loan amount a customer should borrow based on income and credit profile.
[/lockercat]HPPCS Notes brings Prelims and Mains programs for HPPCS Prelims and HPPCS Mains Exam preparation. Various Programs initiated by HPPCS Notes are as follows:-
For any doubt, Just leave us a Chat or
Fill us a querry
––