#DMPQ #Mains #Prelims #CurrentAffairs #StateGK
HIMACHAL PRADESH
Rs 6,300-crore annual plan size for state
The Himachal Pradesh State Planning Board approved the annual plan size of Rs 6,300 crore for 2018-19 at a meeting chaired by Chief Minister Jai Ram Thakur. This year's plan marked an increase of 10.51 per cent. Last year, the amount was Rs 5,700 crore.
The Chief Minister said the annual plan had focused on the social service sector, transport and communication, agriculture and allied activities, energy, irrigation and flood control. The social service sector got an outlay of Rs 2,548 crore and transport and communication Rs 1,095 crore.
Third priority has been accorded to agriculture and allied activities, for which an outlay of Rs 844 crore has been proposed. A sum of Rs 682 crore has been proposed for the energy sector, Rs 431 crore for irrigation and flood control and Rs 285 crore for general economic services, while the other sectors will get Rs 415 crore.
The Chief Minister said Rs 653 crore had been proposed under the Rural Infrastructure Development Fund (RIDF) with a loan from NABARD. He said a sum of Rs 368 crore had been proposed for roads and bridges, Rs 130 crore for rural water supply schemes, Rs 110 crore for minor irrigation schemes, Rs 38 crore for micro irrigation and poly houses (agriculture).
INTERNATIONAL
UK and India upgrade joint research on clean water and clean energy
UK-India research projects on 'Water Quality Research' and 'Energy Demand Reduction in Built Environment' were launched by Dr V K Saraswat, Member, National Institution for Transforming India (NITI) Aayog, Professor Ashutosh Sharma, Secretary, Department of Science and Technology (DST) India and Daniel Shah, Director, Research Councils UK (RCUK) India.
The 'Water Quality Research' programme has eight projects and 'Energy Demand Reduction in Built Environment' programme has four projects, with a total joint investment of up to £15 million.
These projects aim to deliver mutual benefits and research solutions not only to the UK and India but also to address shared global sustainable development goals – clean water and clean energy.
India to host World Environment Day
India will host the World Environment Day 2018, Union Environment Minister Harsh Vardhan and United Nations Environment Program chief Erik Solheim said.
The theme for the World Environment Day-2018, held every year on June 5, is "Beat Plastic Pollution".
Canada hosted the event in 2017.
Meanwhile, Harsh Vardhan also launched the first electric charging facility at the Lodhi Road UN office — the first ever in a UN office in India.
Amazon Becomes World's Third Most Valuable Company
Amazon's market value surpassed Microsoft's for the first time, making Amazon the world's third most valuable company.
Apple and Alphabet stand ahead of Amazon as the most valuable companies in the world.
Microsoft, now ranked fourth, follows, ahead of Tencent and Facebook.
·        Amazon Launches Its 1st Food Retail Service In India
Amazon becomes the first foreign e-commerce firm to start its own food retail venture in India called Amazon Retail, piloting its services in Pune.
It will reportedly be available on Amazon India platform and sell locally made and packaged food to the consumers directly. Amazon also has Amazon Now app, which connects retailers with customers for sale of groceries.
·        BAFTA Awards 2018: Complete List Of Winners
drama Three Billboards Outside Ebbing, Missouri won maximum prizes at the British Academy of Film and Television Arts (BAFTA) Awards 2018, which took place at the Royal Albert Hall in London, UK.
Best Film                         Three Billboards Outside Ebbing, Missouri

2.    Outstanding British Film    Three Billboards Outside Ebbing, Missouri

3.    Best Director                    Guillermo Del Toro, The Shape of Water

4.    Best Actress                     Frances McDormand, Three Billboards Outside Ebbing,    Missouri

5.    Best Actor                        Gary Oldman, Darkest Hour
NATIONAL
·        Union Cabinet Approves New Bill to Ban Unregulated Deposit Schemes And Chit Funds (Amendment) Bill
In a major policy initiative to protect the savings of the investors, the Union Cabinet has given its approval to introduce the following bills in the Parliament:-

Banning of Unregulated Deposit Schemes Bill, 2018 in parliament &

2. Chit Funds (Amendment) Bill, 2018.
1. The Banning of Unregulated Deposit Schemes Bill, 2018
The bill is aimed at tackling the menace of illicit deposit-taking activities in the country. Companies/ institutions running such schemes exploit existing regulatory gaps and lack of strict administrative measures to dupe poor and gullible people of their hard-earned savings.

2. The Chit Funds (Amendment) Bill, 2018

The Union Cabinet gave its approval to introduce the Chit Funds (Amendment) Bill, 2018 in Parliament. In order to facilitate the orderly growth of the Chit Funds sector and remove bottlenecks being faced by the Chit Funds industry, thereby enabling greater financial access of people to other financial products, the following amendments to the Chit Funds Act, 1982 have been proposed:

Use of the words "Fraternity Fund" for chit business under Sections 2(b) and 11(1) of the Chit Funds Act, 1982, to signify its inherent nature, and distinguish its working from "Prize Chits" which are banned under a separate legislation;

ii. Increasing the ceiling of foreman's commission from a maximum of 5% to 7%, as the rate has remained static since the commencement of the Act while overheads and other costs have increased manifold;

iii. Allowing the foreman a right to lien for the dues from subscribers, so that set-off is allowed by the Chit company for subscribers who have already drawn funds, so as to discourage default by them; and

iv. Amending Section 85 (b) of the Chit Funds Act, 1982 to remove the ceiling of one hundred rupees set in 1982 at the time of framing the Chit Funds Act, which has lost its relevance.
·        India Successfully Test-Fires Agni-II Missile
India successfully test-fired Agni II medium-range nuclear-capable missile from APJ Abdul Kalam island off the Odisha coast. The Strategic Forces Command (SFC)fired Agni-II from a mobile launcher at launch complex 4 of the Integrated Test Range.
Agni-II, which has a length of 20 meters, weighs 17 tonnes and can carry a payload of 1000 kgs over a distance of 2000 km. It is a part of the Agni series of missiles developed by the DRDO.
Gk bit – Agni Missile System
The Agni missileis a family of medium to intercontinental range ballistic missiles developed by India, named after one of the five elements of nature. Agni missiles are long range, nuclear weapons capable surface to surface ballistic missile. The first missile of the series, Agni-I was developed under the Integrated Guided Missile Development Program and tested in 1989. After its success, Agni missile program was separated from the IGMDP upon realizing its strategic importance. It was designated as a special program in India's defence budget and provided adequate funds for subsequent development. As of 2008, the Agni missile family comprises three deployed variants while two more variants are under testing.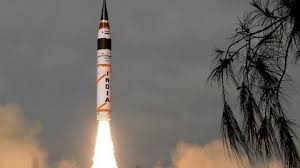 Agni-I                    MRBM                  700 – 900 km (Operational)
Agni-II                   MRBM                  2,000 – 3,000 km (Operational)
Agni-III                 IRBM                     3,500 – 5,000 km (Operational)
Agni-IV                 IRBM                     3,000 – 4,000  km(Testing)
Agni-V                  ICBM                     5,000 – 8,000 km (Testing)
Agni-VI                 ICBM                     8,000 – 10,000 km (Under development)
[/lockercat]HPPCS Notes brings Prelims and Mains programs for HPPCS Prelims and HPPCS Mains Exam preparation. Various Programs initiated by HPPCS Notes are as follows:-
For any doubt, Just leave us a Chat or
Fill us a querry
––